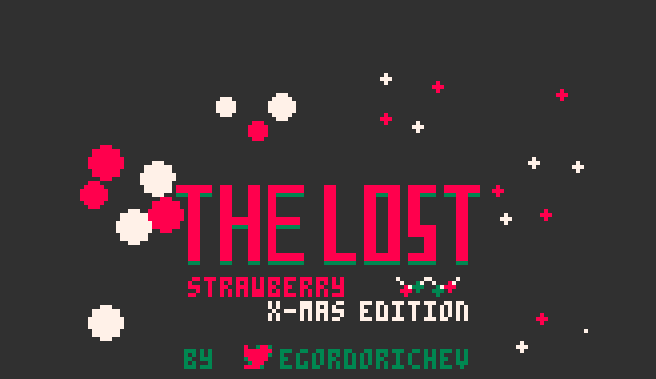 The Lost Strawberry X-Mas Edition
You are a guy, who found his self in a mysterious, strange world. You try to get back to your world, but who knows, what will stop you in your way...
Controls:
X/Z/C - jump (you can also double jump, when you touch bulbs)

Arrows - move
Tab - change palette
This is an updated for my last LD jam game - The Lost Strawberry. Many things were changed:

All levels were remade (now the game has 30 levels, and they are much more simple)
The boss was removed
Added many new mechanics
Added fourth color
Added hats (aka skins)
Removed story
Now you can switch palette with tab
Now you can jump and dash with Z/C/X!
Download
Click download now to get access to the following files:
if you pay $5 USD or more
Comments
Log in with itch.io to leave a comment.
Good GAme!!! i love it!
although i need 81 death to complete the game
Lol, I'm so bad at it myself that I need 81 deaths for just some screens sometimes :P Good job mate
how do you get throu the first jump i got it and this game is so fun
This wasn't easy, but it was an awesome game! Loved it!
This was excellent! I'm going to return to this from time-to-time. (: