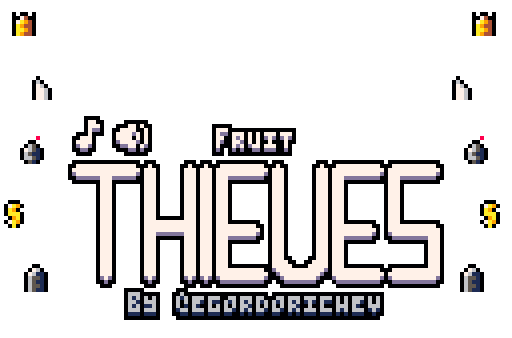 Fruit Thieves
Comments
Log in with itch.io to leave a comment.
I found a game breaking bug, if you pause the game, farms still give money and for that you need to add healing stations those heal towers. I didnt knew that bug so when i came back i had like 1.243.632 cash
Really great game you got here, I would love to see an updated version with more content if that's possible.
First Pico-8 TD game I found, and I loved it! Got to the end (barely!) Took me way off gaurd when the monsters fought back! Excellent. The mechanic of needing to recharge the ammo was an awesome twist
Can you create a p8.png file for this game?
I can. You need the source code?
I don't need the source, but thanks for offering.
*why are you asking, then?
I'd like to be able to run it on my emulator.
Please link me your twitter account, I will DM it to you.
This is rad man, I love the whole click to remain ammo - It's incredible you have such a polished and unique game and the jam is only half over. Nice work!
This is great! The only thing is that I didn't really know how some of the towers worked and what they did, so maybe you could add an explanation in the tutorial, or make it display text when you right click on a tower in the selection menu at the bottom. Other than that its fine!
Thanks ;) I will think about something like that. The only problem with that is my tiny display 😕 Thanks for playing 😉
How do you do this so fast? The jam is only half over and you are already submitting! Haha
Haha, pico-8 is amazing tool 😉 And I trained a lot in other jams, including a bunch of LD's.
This is a very creative take on a tower defense game! I really enjoyed the fact that you had to click to gain ammo, I felt it helped me remain engaged in the game.
When playing other tower defense games, my attention tends to wane after a while, due to the fact that once you have a good defense built up you really only have to watch the game go by without having to do anything. After I discovered that one of the towers you can get makes ammo for you, I was a little disappointed, but then enemies began to destroy my towers and my involvement was required again, which was a plus.
For a relatively small game, it makes a big impact in the content department!
Very well designed!
Thank you so much for this kind-of words 🙂 I'm really glad, that you enjoyed the game! Stay tuned for more 😉 Is there anything you would like to see in the future updates?
Perhaps adding another stage, or a boss wave would be awesome!
I read somewhere that within Pico-8 you are limited to a set number of tokens you can use, so I am unsure if this would be possible, but one thing I would have liked, is a way to know what towers I was buying. Some of the towers (such as the money generator) was fairly self-explanatory, but others I wasn't completely sure what they did, so adding a description or name would be great.
---